The last of the significant publicly traded US pay TV companies reported their results for Q2 2016 today, and as such we now have a complete picture of what happened with pay TV subscribers in the quarter. The comment below is based on data gathered on a quarterly basis by Jackdaw Research, and may be attributed to Jan Dawson, Chief Analyst. Jan may be reached for further comment at jan@jackdawresearch.com or (408) 744-6244.
The seventeen largest publicly-traded pay TV providers in the US collectively lost 834,000 subscribers in the year to June 2016. As the chart below shows, this is the latest set of data in a consistent trend which has been underway since 2014, with almost every quarter bringing an even higher number of cord cutters. The trend is becoming harder and harder for both pay TV operators and industry watchers to ignore, as defections grow consistently over time. The industry needs to confront this trend head-on and craft strategies which are more appropriate for a shrinking market. Those without solid broadband offerings, notably Dish, will be most threatened as this trend continues to play out. Though Sling TV may provide some respite, it's becoming clear that it isn't enough to offset declines in legacy pay TV services for Dish. Overall, the larger cable operators are faring better at the moment than any other group, with smaller cable companies continuing to shrink and telecom-based TV falling fast as Verizon sells assets and AT&T shifts its focus to satellite-delivered TV.
There is a lot more analysis and several more charts on the accompanying post published today on the Beyond Devices blog.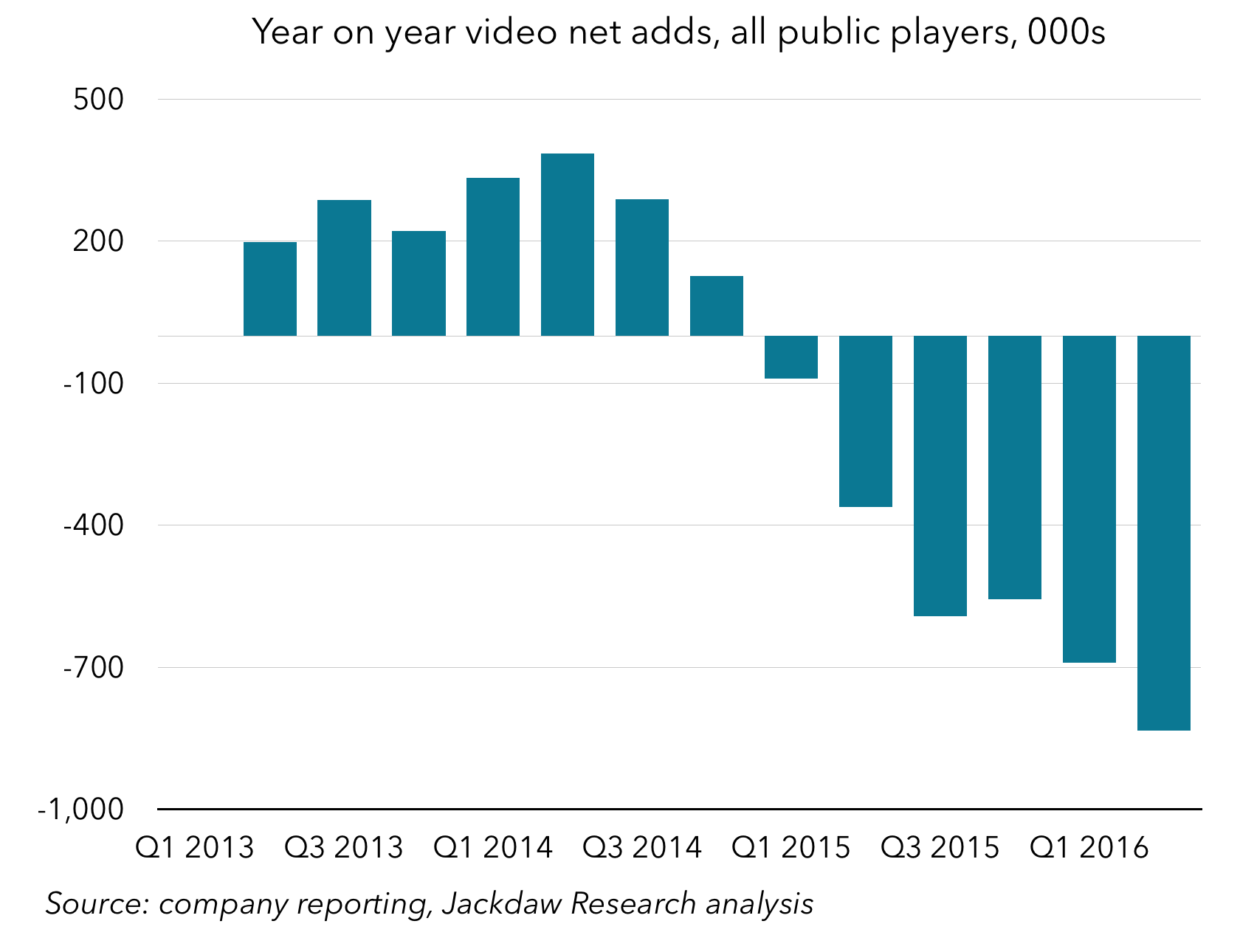 This data is based on public reporting from the seventeen largest pay TV providers in the US:
AT&T
Bright House
Cable ONE
Cablevision
CenturyLink
Charter
Comcast
Consolidated Communications
DirecTV
DISH
Frontier
Mediacom
Suddenlink
Time Warner Cable
Verizon
Windstream
WideOpenWest.
The only major provider not covered in this data is Cox, which is privately held. On the basis of various estimates, it is likely that Cox is losing a few tens of thousands of pay TV subscribers per year on top of those reported above, so its inclusion would worsen the picture slightly. The data above also include Dish's total reported subscriber base, which in turn includes its Sling TV subscribers. Without the Sling TV subscribers, the decline would be significantly worse, at around 1.4 million year on year losses. Again, there is more detail on this subject including additional charts in the accompanying blog post here.