Microsoft today announced that it will sell its feature phone business, acquired from Nokia in 2014, to a combination of Foxconn and a new entity led by former Nokians. The comment below may be attributed to Jan Dawson, Chief Analyst, Jackdaw Research. Jan may be reached by email for further comment at jan@jackdawresearch.com.
The sale of the feature phone business – especially for so little – is just the latest step in what's been almost a complete unraveling of the strategy behind the original acquisition of Nokia's devices business. The feature phone business was not the main target of the acquisition, but Microsoft attempted to justify acquiring it as part of the deal on the basis that it would provide a funnel for customers to upgrade to Windows Phones. Of course, that never really happened, and Windows Phone has largely been a disaster since the acquisition too. It's hard to see the acquisition as anything but a complete failure at this point, and Microsoft has already admitted as much with the large write-down it took in July last year. The feature phone business has been in decline ever since the acquisition closed, as the chart below shows, but Microsoft still sold over 80 million feature phones over the last year (compared to just 21 million smartphones).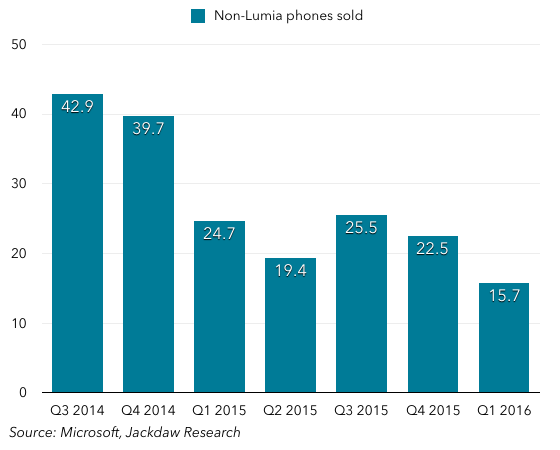 The press release does seem to suggest that Microsoft will support existing Lumia devices but not necessarily release any new ones. There are two ways to read that, one of which is that Microsoft is giving up on the smartphone business too, and the other of which is that Microsoft just plans to brand any future smartphones differently. For example, there's been a lot of talk about a potential Surface phone in the future, so the wording of the announcement still leaves that door open. But you would have thought Microsoft would have been clearer about its future smartphone plans if that really was the case. It's notable that the press release doesn't say anywhere that Microsoft will continue to make smartphones. It's certainly the latest indicator of how Microsoft's commitment to its smartphone business has waned over the last couple of years.