Note: This past week I posted analysis of the market context for both these mergers here, including a large amount of data and charts. One of those charts is at the bottom of this post.
Additional note: At the time of writing, the AT&T-DirectTV merger is rumored to be announced on Sunday. I don't work on Sundays, so if you'd like to reach me for comment, you can do so today, ideally via email at jan@jackdawresearch.com. Or wait until Monday. 
The comment below may be attributed to Jan Dawson, Chief Analyst at Jackdaw Research.
There is precious little growth in the consumer wireline market, and the total number of customers for some combination of wireline voice, broadband and TV has stayed stubbornly constant for the last couple of years. The major providers are largely swapping subscribers, and the only way to grow is to steal more subscribers from your competitors than you lose to them. In addition, each of the major providers has a set geographic region within which it operates, and organic expansion out of that region is pretty unattractive because of the cost of building new infrastructure. As such, the only way to grow is to expand inorganically by acquiring a provider with a different footprint and boosting its growth. The Comcast-Time Warner Cable and AT&T-DirecTV mergers are essentially the same in this regard – they're both attempts to grow by acquiring a presence out of their traditional footprint.
But there's an important difference between the two mergers: Comcast and Time Warner Cable are essentially identical assets under very different management, while AT&T and DirecTV have very different assets both under similarly good management. Comcast's bet is that it can apply its successful strategy and backend infrastructure to the TWC assets and get that business growing and adding customers again. In the process it will gain scale and thus negotiating power with content owners. But in acquiring DirecTV, AT&T will be acquiring a very different asset, one that gives it a national footprint in TV services to go with its national wireless footprint, but which doesn't have any wireline broadband or voice assets. This creates the opportunity for AT&T to provide a new kind of triple play of satellite TV along with wireless voice and broadband outside its traditional wireline footprint, in addition to providing a more traditional triple play inside its footprint, utilizing DirecTV where U-verse doesn't make sense to provide the TV element of the bundle. This means an opportunity to sell AT&T wireless services to the DirecTV base, but also an opportunity to sell DirecTV services to AT&T wireless customers outside of AT&T's wireline footprint. And of course, it'll also offer some of the same benefits in terms of negotiating power as the Comcast-TWC merger.
Given that AT&T has bumped up against the upper limit of its acquisition strategy in both the wireline and wireless telecoms space, it's been looking overseas for expansion opportunities, and in particular at Vodafone. But cross-border mergers have never performed well because the synergies are small, the duplicated assets in each country large, and because cultural differences usually prevent companies from applying the same strategies in each market. But domestic acquisitions usually fare much better, with significant synergies as well as scale economies. As such, the DirecTV acquisition makes a lot of sense for AT&T as an opportunity to grow domestically while avoiding some of the problems it experienced when it tried to acquire T-Mobile.
However, especially in the context of the Comcast-Time Warner Cable merger, this acquisition raises important questions about scale in the US market. Were both mergers to go through, they would create two dominant providers which would dwarf all other providers – total customer relationships for both companies are shown in the chart below (which takes no account of the divested subscribers at Comcast since it hasn't provided enough detail to make a full calculation). These two mergers would involve the four companies that already have the largest number of customer relationships, and each would likely end up with around 35 million customers, compared with DISH at under 15 million and Verizon at just over 10 million. The companies will have to work very hard to justify regulatory approval in that context, especially since the wireless market is already dominated in this way by two larger players, one of which happens to be AT&T.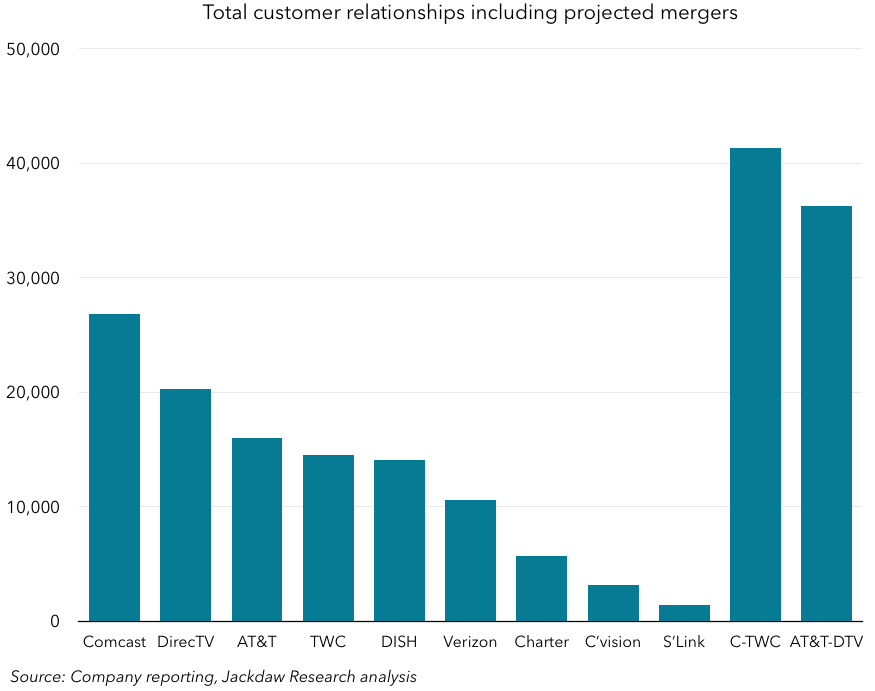 Lastly, it's worth noting that although the US is by far DirecTV's biggest business, about a quarter of its revenue comes from its Latin American business, which operates satellite providers in several countries. AT&T already owns a small stake in America Movil, a Latin American mobile operator, and there may be some small complementarity between these assets. But the Latin American business is more likely to be a distraction than a benefit for AT&T, with limited synergies between the domestic and overseas operations. As such, it's quite possible that it will look to offload rather than keep the Latin American assets either immediately or over time. As mentioned above, the synergies between cross-border activities in this market tend to be very small, although they're often overestimated by acquirers.